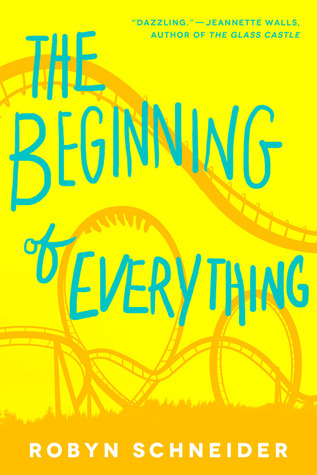 Title: The Beginning of Everything
Author: Robyn Schneider
Genre: YA, contemporary, coming of age
Publisher/Publication Date: Katherine Tegen/August 27, 2013
How Did I Get It? Borrowed from Veronica
Format? Hardback
Synopsis from Goodreads: Golden boy Ezra Faulkner believes everyone has a tragedy waiting for them—a single encounter after which everything that really matters will happen. His particular tragedy waited until he was primed to lose it all: in one spectacular night, a reckless driver shatters Ezra's knee, his athletic career, and his social life.

No longer a front-runner for Homecoming King, Ezra finds himself at the table of misfits, where he encounters new girl Cassidy Thorpe. Cassidy is unlike anyone Ezra's ever met, achingly effortless, fiercely intelligent, and determined to bring Ezra along on her endless adventures.

But as Ezra dives into his new studies, new friendships, and new love, he learns that some people, like books, are easy to misread. And now he must consider: if one's singular tragedy has already hit and everything after it has mattered quite a bit, what happens when more misfortune strikes?

Robyn Schneider's The Beginning of Everything is a lyrical, witty, and heart-wrenching novel about how difficult it is to play the part that people expect, and how new beginnings can stem from abrupt and tragic endings.
Amazon | Barnes and Noble | Book Depository | Goodreads
I think this is the year for fabulous books. Honestly, The Beginning of Everything has earned its place on my "favorites" shelf – right next to Perks of Being a Wallflower. It embodies that struggle of growing up and finding your place in the world, especially in high school, and it gave me so many nostalgic feels that when I had finished the book I closed it and laid back, holding it to my chest and smiling like an idiot. It had a John Green feel to it, but I guess you could say that about any coming of age story with a geeky male main character. But Schneider has her own unique voice – lyrical and poetic, yet very real and true to a teen's mentality.
Let's get my favorite part out of the way: the uber geekiness of the debate team. I can pinpoint the exact moment I sold my heart to this book – an Ender's Game reference. First it started with the leader casually referring to the group as "Dragon Army," and then (in a you-killed-the-joke sort of way) another responded with "the enemy's gate is down." I – and I'm not exaggerating here – had to take a moment, read it over again, and then stand up and walk around going OOHHHHH because ho-ly CRAP was my favorite book just quoted in a teen novel??? Someone hold me right now because this CAN'T be real life. It was truly a magical moment.
As far as the characters, I loved them all. Even Ezra, when he's acting like a huge d-bag and ignoring Toby despite his best friend's attempts to reconnect after Ezra's years away as the golden boy of the school. In the middle of the book, Ezra falls into that hole of self-pity, angry about his knee and his surgeries and how his future has suddenly vanished, and he has to figure out what he truly wants to do with himself now. But I really enjoyed seeing him push past that, and become a better person for it in the end. With Cassidy, I was concerned she'd be another manic pixie girl, and she followed that path until closer to the end, but Schneider completely tore down that trope in a way that made my jaw drop and I was speechless with awe.
Some people may not enjoy this story, I know that for sure. But for me personally, it's theme of living, not existing, is something very important to me in my life right now, and it made a huge impact for me. So while I made a personal connection with the book that someone else may not, I still highly recommend this story, even if it's for the goofy friendships between all the teens!
A final note: this book was originally titled Severed Heads, Broken Hearts (and still is in some countries I think). I like both titles, since both are apt for the entirety of the story, but I prefer SHBH instead. I think it's got that wry humor that permeates throughout the writing.
My Final Rating: