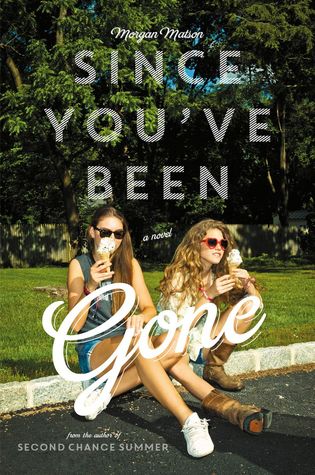 Title: Since You've Been Gone
Author: Morgan Matson
Genre: YA, contemporary
Publisher/Publication Date: Simon & Schuster / May 6, 2014
How Did I Get It? Bought it!
Format? Hardback
Synopsis from Goodreads: The Pre-Sloane Emily didn't go to parties, she barely talked to guys, she didn't do anything crazy. Enter Sloane, social tornado and the best kind of best friend—the one who yanks you out of your shell.But right before what should have been an epic summer, Sloane just… disappears. No note. No calls. No texts. No Sloane. There's just a random to-do list. On it, thirteen Sloane-selected-definitely-bizarre-tasks that Emily would never try… unless they could lead back to her best friend.

Apple Picking at Night? Ok, easy enough.

Dance until Dawn? Sure. Why not?

Kiss a Stranger? Wait… what?

Getting through Sloane's list would mean a lot of firsts. But Emily has this whole unexpected summer ahead of her, and the help of Frank Porter (totally unexpected) to check things off. Who knows what she'll find?

Go Skinny Dipping? Um…
Amazon | Barnes and Noble | Book Depository | Goodreads
This was one of my most anticipated reads of the spring/summer months, and I wasn't disappointed in the slightest! Matson brings back her fun yet profound and deep writing reminiscent of Amy & Roger's Epic Detour, and I dare say that SYBG is only about a half step below A&R for me. It was THAT good. I honestly don't even know where to start. The friendship, the list, the jokes, the music playlists – it was all SO perfect! Okay, I'll start in that order.
Friendship is something that Matson does best, and she proves that once again in SYBG. Not just with Emily and Sloane, but with the new friends Emily makes after Sloane leaves: Frank, Dawn, and Collins. All of the characters are so distinct from each other, and they feel like real people, not just characters. Sloane had the potential to be a Manic Pixie Dream Girl, but she backed off from that right away. Frank wasn't that hot and perfect guy – he's afraid of heights, bends over with his hands on his knees to catch his breath after a long run (instead of being perfect and glistening and not out of breath at all – like what is that?? Unless you're Captain America, you gosh darn better be at least red-faced after running five miles), and he's got this geeky side that's addicted to Sudoku and crossword puzzles (CAN HE BE ANY BETTER). Dawn and Collins, despite being minor characters, had huge personalities. And did I mention that I SHIP THEM SO HARD it's not even funny. And Emily – can't forget our main girl! She's insecure, but at the same time she has a quiet strength just bubbling underneath the surface, and it was drawn out in an incredibly organic way; she isn't the same person at the end of the book, but I didn't realize it until the final page.
Okay – the music. One of my favorite parts of Amy and Roger's Epic Detour was the playlists, and I was ecstatic to see that Matson had brought them back! And this time was even better, because I actually knew some of the songs she was referencing. One day, when I have the time, I'm going to put them all together on spotify or something. Unless someone else has already done that, and in that case LINK ME PLEASE!
The idea with the list of things Emily needed to do was genius, and I loved how it wasn't a "set out to do this one then do one per chapter" sort of thing. Emily would try to do one, but ended up finishing another, and as she finished them all it showcased how her confidence was growing and the person she was morphing into. And with the flashbacks interspersed, I was able to see Sloane's personality, and I could easily see her leaving those sorts of challenges for Emily after she left.
The ONE thing I could nitpick if I HAD to would be the ending; I felt it was a wee bit abrupt, and the Sloane thing solved slightly too easily. BUT I DIDN'T CARE because it was kind of sweet and I always love a happy ending with all the ends wrapped up nice and pretty.
So if I had to give you a list of order for Matson's books, I'd say read Amy & Roger, Since You've Been Gone, and then Second Chance Summer. All are fantastic spring/summer reads, or perfect for reading on the beach if you're into that sort of thing! But Second Chance Summer I'd say bring some tissues, because it's definitely the most tear-jerker of the three.
My Final Rating: