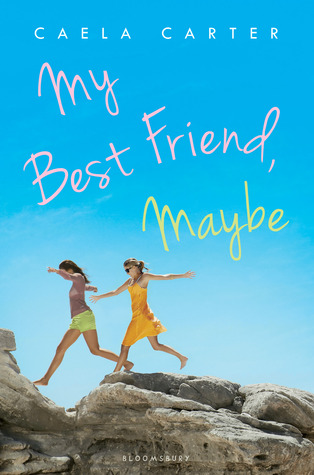 Title: My Best Friend, Maybe
Author: Caela Carter
Genre: YA, contemporary, GLBT
Publisher/Publication Date: Bloomsbury USA Childrens / June 3, 2014
How Did I Get It? Netgalley
Format? eARC
Synopsis from Goodreads: Colette has been bored and lonely ever since her best friend, Sadie, dumped her the summer before they stared high school. She tries to be perfect for everyone left in her life: her parents, her younger brothers, her church youth group, even her boyfriend, Mark. But Colette is restless. And she misses Sadie.

When Sadie tells Colette that she needs her old friend to join her on a family vacation to the Greek Islands, one that leaves in only a few days, Colette is shocked to hear their old magic word: need. And she finds herself agreeing.

Colette tries to relax and enjoy her Grecian surroundings but it's not easy to go on vacation with the person who hurt you most in the world. When the reason for the trip finally surfaces, Colette finds out this is not only a fun vacation. Sadie has kept an enormous secret from Colette for years…forever. It's a summer full of surprises, but that might be what Colette needs.
Amazon | Barnes and Noble | Book Depository | Goodreads
I've been on a summertime contemporary binge, and most of them have been fantastic. My Best Friend, Maybe, did not join those ranks. From page one, I had a suspicious feeling that it wasn't going to be a favorite, but by the halfway mark, I was just glad I was able to finish it and not give up. Mainly, this book infuriated me, for several reasons. And while I understand that usually strong emotions are a good sign, in this case it was too much. Plot points were forgotten and left aside, and the resolution was too perfect for all the problems that had been brought up. But most of all, it was the way Christians were presented that had me ranting and huffing as I read the book.
Before I jump into the rest of it, I want to address my main issue with this book. Now, I understand that many Christians actually are the homophobic, Bible-thumping type. And it's such a shame to see that being the main image of Christianity. But when every single YA book I read shows Christians as the worst people in the entire world, I get tired of it. Honestly, I've gotten to the point where, despite the fact that I'm a Christian, I'll run from any book marked with that title. But back to My Best Friend, Maybe: it was the mother that had me almost screaming. Apparently that woman missed the "let he who is blameless cast the first stone" lesson. Along with the first five verses of Matthew  7. And the "love your neighbor as yourself" commandment. I'll stop myself there, before I go too crazy. But, can we please, just for once, write about some Christians who aren't the demons of the book?
Besides my own personal rancor with that issue, I had some other problems with MBFM on top of all that. Colette is one of the most wishy-washy MCs I've read in a while; the entire book is her going back and forth as to whether or not she wants to be friends with Sadie again. And then the romance issue – first of all, instalove. Second – what happened to your other boyfriend? ZERO mention of him once Colette found her new main squeeze! As far as the resolution of the entire story, I found it to be too sappy and easy, after the years of issues that had built up in Sadie and Colette's friendship. Sadie is presented as this poor, misunderstood kid (which is true but she uses it as a guilt-trip), but in reality she's manipulative, and what she asks of Colette after lying and ignoring her for three years is almost appalling.
I wanted to love this story; I really did. But without any warning from the synopsis of the Christian issue, or the GLBT subject, I felt like I was shoved into something I wasn't prepared for. I don't have a problem with issue books, but I'd at least like to understand exactly what I'm getting into. What I thought would be a summery beach book about rekindling friendships turned into a preachy, condescending litany on why church is bad and being best friends means "sacrificing everything of yourself to hopefully fix this problem for your friend who can't face her own issues". I just can't recommend this one personally, but maybe other readers will find some redeeming qualities.
My Final Rating: