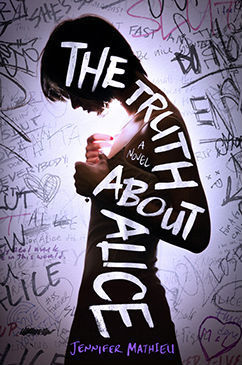 Title: The Truth About Alice
Author: Jennifer Mathieu
Genre: YA, contemporary
Publisher/Publication Date: Roaring Book Press / June 3, 2014
How Did I Get It? Netgalley
Format? eARC
Synopsis from Goodreads: Everyone has a lot to say about Alice Franklin, and it's stopped mattering whether it's true. The rumors started at a party when Alice supposedly had sex with two guys in one night. When school starts everyone almost forgets about Alice until one of those guys, super-popular Brandon, dies in a car wreck that was allegedly all Alice's fault. Now the only friend she has is a boy who may be the only other person who knows the truth, but is too afraid to admit it. Told from the perspectives of popular girl Elaine, football star Josh, former outcast Kelsie, and shy genius Kurt, we see how everyone has a motive to bring – and keep – Alice down.
Amazon | Barnes and Noble | Book Depository | Goodreads
When I was approved for this book, I was beyond excited; there was already some fantastic buzz going on that promised an excellent contemporary. And then I started reading it, and I was not disappointed! The Truth About Alice addresses a horribly common high school experience: bullying. It actually focuses more on slut-shaming, and in a surprisingly well-done fashion! I didn't feel like I was being preached to, but Mathieu wrote in a way that really made me think about the subject.
This book actually wasn't told from the view of Alice until the very last chapter. Up to the last chapter, it's told from four different viewpoints: other students who were involved in Alice's life and in her exile from popularity. I usually can't stand more that two POVs, but every single character was so distinct in their voice that even without the tag at the beginning of the chapter, I knew who was talking. I think the greatest part was who Mathieu chose to speak through: the ringleader of the popular girls, Alice's ex-bestfriend who only wishes to be a part of the "in" crowd, the best friend of the now-dead jock who started the rumors, and then the quiet nerd hiding in the background. It was an eclectic mix, and they all had an important voice in this story.
I'd have to say that my favorite part is how the story was handled. Often in books like this, where a student is ostracized and intensely bullied, the plot can lead to the self-harm/suicide endgame. The type where the victim's death is the only thing that changes the mind of everyone who tormented them. But The Truth About Alice didn't follow that stereotype at all, and it was refreshingly perfect. I won't spoil anything, but the ending was perhaps my favorite part, because it wasn't all hunky-dory, but it was realistic, and very hopeful. It emphasized the importance of true friendship, and looking past the facade a person puts up and the rumors surrounding them to find their true heart and judge based on their character.
This is a tiny book – barely 300 pages, but every page counts, and in the end it's just a small blip in a high school year. With how organic the changes were, and the themes that emerge towards the end of the book, I highly recommend this novel. I was shocked to find that it was Mathieu's debut! I'll definitely be looking for more of her books in the future.
My Final Rating: