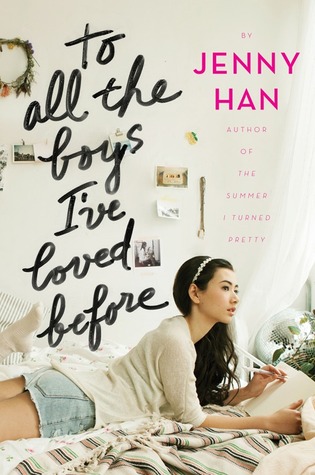 Title: To All The Boys I've Loved Before
Author: Jenny Han
Genre: YA, contemporary, romance
Publisher/Publication Date: Simon & Schuster / April 15, 2014
How Did I Get It? Bought it
Format? Hardcover
Synopsis from Goodreads: Lara Jean's love life goes from imaginary to out of control in this heartfelt novel from the New York Times bestselling author of The Summer I Turned Pretty series.

What if all the crushes you ever had found out how you felt about them… all at once?

Lara Jean Song keeps her love letters in a hatbox her mother gave her. They aren't love letters that anyone else wrote for her; these are ones she's written. One for every boy she's ever loved—five in all. When she writes, she pours out her heart and soul and says all the things she would never say in real life, because her letters are for her eyes only. Until the day her secret letters are mailed, and suddenly, Lara Jean's love life goes from imaginary to out of control.
Amazon | Barnes and Noble | Book Depository | Goodreads
Oh my god. Where do I even start with this review?? There really are no words for how I feel about this book, but I'll borrow a quote from Tahereh Mafi and say that I feel like "I've been stuffed with sunshine." The entire time I was reading TATBILB (now there's an awkward acronym for ya), I felt like I was walking on air. And the majority of it was read while I was at Starbucks, so I treated all the other patrons to my goofy grins and bubbly giggles. I could not control myself – I was so light-hearted.
There's something about Jenny Han's writing – I felt like I was Lara Jean's best friend, and we were just chatting over cookies and coffee. Honestly she made me want to bring out the pastels and polka dots and start scrapbooking. Lara Jean is so charming and sweet, but not in that creepy-weird sort of way. She's genuinely kind-hearted, if a bit naive. As for the love interest(s) [yes, there's a slight triangle, but puh-lease we all knew who she was going to end up with], I honestly liked both of them. Peter was that bad-boy-who's-not-really-a-huge-douche-once-you-get-to-know-him, and Josh was the boy next door who Lara Jean has known for years. What really made these characters feel so real to me was their varying emotions and flaws – they were jealous, goofy, awkward, angry, oblivious, and so much more. They weren't perfect, and that made them endearing.
The one thing that surprised me about TATBILB was the plot. I expected it to be more centered around the letters and their backlash, but they were more of an instigator rather than the guiding factor of the story. Which was totally fine with me, because it left more time for the romance and family aspects of it. I had forgotten how much I love the "we're going to pretend we're dating but we really hate each other" trope. Because we all know how that ends – and I was squealing with glee the entire way. YOU CAN DENY IT ALL YOU WANT BUT I KNOW YOUR HEARTS. SUCKERS.
I don't think I can say much more before I start spoiling stuff. But I will depart with these words: read the book! It's perfect for a lazy afternoon; I enjoyed mine in the sun with my coffee and some music (this playlist, if you're interested!). There is a cliffhanger, which had me gasping and crying for more, but it's so perfectly sweet and hopeful that I'm more 'gimme gimme I need my HEA' rather than 'what the hell was that??' It is a bit more open-ended than I expected, but that just means there's more for book 2 when it comes out next year!
So, yes. Read it, love it, hug it. And then join me in the fetal position as I wait for 2015 to roll around.
Sidenote: Awesome sauce that Lara Jean is half-Japanese, and there wasn't any whitewashing on the cover. KUDOS to the cover designer!
My Final Rating: