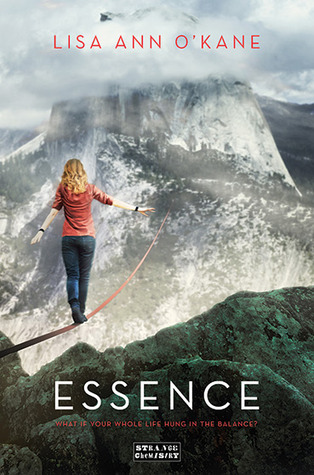 Title: Essence
Author: Lisa Ann O'Kane
Genre: YA, post-apocalyptic, dystopian
Publisher/Publication Date: Strange Chemistry / June 3, 2014
How Did I Get It? Netgalley
Format? eARC
Synopsis from Goodreads: Autumn escaped a cult, but now she realizes she's fallen into another.

Growing up in San Francisco's Centrist Movement, sixteen year-old Autumn Grace has always believed emotions—adrenaline, endorphins, even happiness—drain your Essence and lead to an early death. But her younger brother's passing and a run-in with a group of Outsiders casts her faith into question.

Ryder Stone, the sexy, rebellious leader of the Outsiders, claims Essence drain is nothing more than a Centrist scare tactic — and he can prove it.

Autumn follows Ryder to his Community of adrenaline junkies and free spirits in Yosemite National Park, and they introduce her to a life of adventure, romance, sex, drugs and freedom. But as she discovers dark secrets beneath the Community's perfect exterior, she realizes the more she risks in search of the perfect rush, the further she has to fall.
Amazon | Barnes and Noble | Book Depository | Goodreads
From page one, I had this sinking feeling that Essence and I weren't going to be best buds. And then by page 50, I was just hoping we could be acquaintances. Up and until 90%, we could have been classified as mortal enemies. To say finishing this book was a struggle would be an understatement. BUT – that last 10%, that redeemed the novel, even if only a little bit. It's going to be easiest for me to bullet point this review:
The Bad:
Autumn jumped out of one cult, but then fell into another cult, one that was merely the counter-movement to the Centrist cult. You would think that if this girl had run from one manipulative leader, she would have learned to at least watch for another. But, she fell right in, turning on all of her friends and falling headlong into the new theology.
I can handle a love triangle. Truly, I can. But not when it's done this way. Autumn fell hard for one boy, who was, I have to say, an awesome dude. How often do you read about a YA guy who will stop a girl's sexual advances when she's drunk? Not often! But it was really the other guy that had me grumbling most of the way. He was clearly manipulative, he purposely got Autumn drunk,  then gave her MDMA when she had no idea what it would do, then they had their little moment and fireworks went off. Um, hello – what happened to sober is sexy? He was redeemed slightly in the end (thank God he figured out that he was blindly following the leader and stood up for himself), but I still distrust him, and don't like how their relationship was romanticized when it was really unhealthy.
The second half was basically glorified tight-roping. There was other stuff going on, but I read a lot about Autumn's progress on how far she could walk and if she would make it over the cliff where if she fell it was certain death.
The timeline was really unclear. The characters kept mentioning the Great Quake in San Francisco, which made me think of the 1900s quake. But they all had really advanced technology for the 1900s, and I couldn't figure it out at all. Finally, a character, about 40% into the book, mentioned that it was 2033. After that, it all made so much sense.
This part was a personal issue, and maybe it was just me interpreting it wrong, but I felt like the author was really down on a certain character. The girl was a talented tight-roper, she had blonde hair, was friendly with everyone, and was "too nice." Every time she was mentioned, it was with a really negative tone, as if being blonde and friendly equates to witchy and distrustful.
The Good:
The last 10% brought about a really important theme and realization for Autumn. It was highly satisfying to see her come to terms with the polar opposites of the two cults, and trying to find a balance between neutrality and abundance.
Ultimately, this book was a struggle to get through. If it hadn't been focused so much on the romance, and the main character used a bit more logic, I think it would have gone a lot better. The concept was really intriguing though, and I almost wonder if O'Kane will write a sequel. There were a lot of open ends (both for plot points and characters) that I would have loved to see resolved. Ultimately, I wouldn't say don't read it, but for me personally I just couldn't settle into the story and fully enjoy it.
My Final Rating: