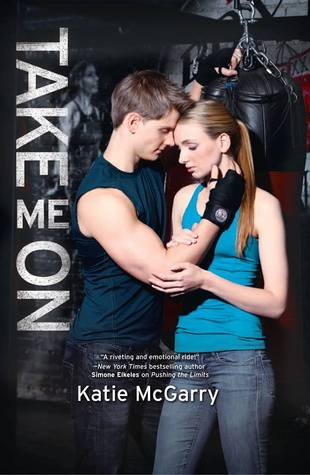 Title: Take Me On (Pushing the Limits #4)
Author: Katie McGarry
Genre: YA, contemporary, romance
Publisher/Publication Date: Harlequin Teen / May 27, 2014
How Did I Get It? Bought it!
Format? Hardcover
Synopsis from Goodreads: Acclaimed author Katie McGarry returns with the knockout new story of two high school seniors who are about to learn what winning really means.

Champion kickboxer Haley swore she'd never set foot in the ring again after one tragic night. But then the guy she can't stop thinking about accepts a mixed martial arts fight in her honor. Suddenly, Haley has to train West Young. All attitude, West is everything Haley promised herself she'd stay away from. Yet he won't last five seconds in the ring without her help.

West is keeping a big secret from Haley. About who he really is. But helping her-fighting for her-is a shot at redemption. Especially since it's his fault his family is falling apart. He can't change the past, but maybe he can change Haley's future.

Hayley and West have agreed to keep their relationship strictly in the ring. But as an unexpected bond forms between them and attraction mocks their best intentions, they'll face their darkest fears and discover love is worth fighting for.
Amazon | Barnes and Noble | Book Depository | Goodreads
I… I'm speechless. I just finished reading TMO, maybe ten minutes ago. It's nearly midnight, and I've been reading for about five hours now. My family wrote me off as useless, and stopped trying to talk to me, but I HAVE FINISHED IT. I just… wow. Wow wow wow. I was so concerned that this one would break the streak of fabulousness that was the first three books in the series, but my fear was totally unfounded. Once again, McGarry has written a story that gripped my heart and took me on a thrill ride in just a few hundred pages.
I was skeptical about West being the main character, but after… chapter 2? Maybe? all those fears were assuaged. All of that swagger, bad-boy attitude is just a front, and West has so much going on inside him that my heart ached for this kid. To be honest, for the first 1/3 I wasn't engaged in Haley's story at all, and was impatient every time it switched to her perspective. I just wanted to read more from West! But slowly, bit by bit, I fell in love with Haley too, and all of her struggles and pain and hopes. I was rooting for both of them, practically screaming at my hardback because I just wanted them to hold on to each other and start to heal from their respective baggage. But oh the wait was so worth it – the triumph is so sweet that I felt my heart swelling with pride.
As usual, there were some cameos from some of the characters from the previous books. I was so happy to see Abby back, even if she played a much different role than I was expecting. There were a few appearances from Isaiah as well; not as many as this girl would have hoped, but I take what I can get. It was great seeing those three months after the events in Crash Into You, and seeing how Isaiah and Rachel grew together as a couple. But of course, I can't forget the new characters! Jax and Kaden provided some much-needed humor, but they also brought another aspect to the story that wasn't just romance. I have a special spot in my heart for Jax; I wanted to scoop him up out of that house and cart him away to the land of sunshine and unicorns. Which he'd probably gag at, and promptly set on fire just to see what'd happen, but you get my point. I have a feeling that if we put Jax and Logan in the same room, utter chaos would ensue. And I'd love every second.
Is it too much to ask for a book where it's like an ensemble cast? You know how that movie Valentine's Day brought like 8 million movie stars together? Yeah, just like that. I just want every single character and couple from all four books smooshed into one place so I can enjoy the havoc and feels. And the shipping. Oh god could you imagine the OTPs that would come out of that?? *continues daydreaming*
Okay, I think I've said my fill. Any more and I'll start rambling incoherently. I think this is a pointless statement, given my gushing in the above paragraphs, but I highly recommend this book, and the entire series. I can't wait for the continuation of Echo and Noah's story this December, and for the future of the entire series! *still crossing my fingers for an Abby/Ethan book* *or a Logan book* *pointedly stares at McGarry* *slides over the funding for another ten books*
Hah! I wish that last part could happen. But I'll stick to supporting anything and everything that this incredibly talented author has to offer, even when I'm old and gray and my memory is even worse than it is right now. Which can only be a plus, because I'll be able to experience reading the series all over again as if it were the first time!
My Final Rating:
Oh and another thing: TMO has the novella Crossing the Line in the back. Super exciting, since I love novellas, but hate it when they're ebook only! You know me and Kindles… I haven't read it yet, but I will tomorrow during my lunch break at work. But for now, it's sleepy time, with happy dreams of West and Haley!