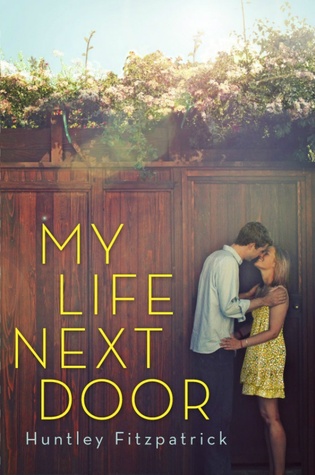 Title: My Life Next Door
Author: Huntley Fitzpatrick
Genre: YA, contemporary, romance
Publisher/Publication Date: Dial Books for Young Readers / June 14, 2012
How Did I Get It? Bought it
Format? Hardback
Synopsis from Goodreads: "One thing my mother never knew, and would disapprove of most of all, was that I watched the Garretts. All the time."

The Garretts are everything the Reeds are not. Loud, messy, affectionate. And every day from her rooftop perch, Samantha Reed wishes she was one of them . . . until one summer evening, Jase Garrett climbs up next to her and changes everything.

As the two fall fiercely for each other, stumbling through the awkwardness and awesomeness of first love, Jase's family embraces Samantha – even as she keeps him a secret from her own. Then something unthinkable happens, and the bottom drops out of Samantha's world. She's suddenly faced with an impossible decision. Which perfect family will save her? Or is it time she saved herself?

A transporting debut about family, friendship, first romance, and how to be true to one person you love without betraying another.
Amazon | Barnes and Noble | Book Depository | Goodreads
I read Fitzpatrick's What I Thought Was True a few weeks ago, but was pushed by – you guessed it – ANDI to read Fitzpatrick's first book, My Life Next Door. And I am SO glad I bought the hardback rather than the paperback, because I'm going to treasure this copy for a very very long time. I completely agree with Andi (and Nara holds this opinion as well, I believe) that MLND is better than WITWT. Even though it dealt with some heavier subjects than I was expecting, it has a more light-hearted and summery feel, and I had a huge smile on my face the whole time. Actually, at one point, I was laughing like a madwoman over this one particular scene that was just GOLD.
I just have to stop and make note that this book contains one of the healthiest, most adorable, and organic romances I've read in a very long time. I mean, WOW can it get any more perfect?? Samantha melts into the Garrett family so gradually and realistically that I never even questioned it at all. Her problems at home were well portrayed, and my heart hurt so much for her, despite how much she tried to pass it off as nothing. And Jase… well, new book boyfriend right there. He's caring, loyal, and very mature – really the whole boy next door thing that I always fall for. And the two of them together??? FLAWLESS. And extraordinarily mature for a YA romance as well; when they had issues, they dealt with them (except for one part, but that was explainable by the circumstances). And when their relationship progressed *highlight for spoilers*: they went and bought condoms together. And it wasn't awkward or creepy; it was actually the most hilarious thing I've read in a while. I really wish more YA books showed a healthy sexual relationship like this – both of them decided that they were ready, and they wanted to take that step together, including what protection to use. Okay, spoiler over. But really, can we sign a petition for more YA authors to write something like that?
Like with What I Thought Was True, My Life Next Door was slightly darker than I expected. There were a lot of struggles that Samantha was experiencing with her Senator mom, and that douchebag Clay. I'd like to smack his head against a wall. And what people were saying to the Garrett's about having so many children? Oh my god I was getting so angry that anyone would have the gall to say something like that. Like WOW keep your nose in your own business. I thought Fitzpatrick wove all of these issues in very well, balancing out the summery sweetness of the romance with the harsh realities of life.
Okay, and I can't forget Tim. Yet another example of when Kayla-falls-in-love-with-secondary-characters. At first glance, he's just a strung-out drunk who really does need to be sent off to that military camp. But after just a few chapters, there's so much more to him. Honestly, his journey to sobriety and health is second only to the romance for me. I was rooting for him so much, and when a secret is revealed at the end, I just about cheered because YES HE'S NOT A HOPELESS IDIOT.
If I had to complain about one tiny thing, it'd be that the end wrapped up too quickly for me. I WANTED MORE. But I think this is more of a personal thing, since I really could have read another 300 pages and been totally okay.
Anyhoo, if you haven't gotten the message yet, read the book! I recommend this one first, and then What I Thought Was True. But both are incredible, with MLND being just slightly better!
WAIT OH MY GOD I JUST FOUND THAT THIS IS A SERIES AND BOOK TWO IS CALLED THE BOY MOST LIKELY TO WHAT IS LIFE OH MY GOD HOLY SHENANIGANS THIS IS TIM'S STORY I NEED IT I NEED IT NOW PLEASEOHPLEASEOHPLEASE AND IT'S WITH ALICE PRAISE THE LORD IN HEAVEN ABOVE *DIES*
I am so sorry for that but this is just… oh my god. Best news I've heard all day.
My Final Rating: