A few months ago, I posted about how I wish more authors wrote using color in their descriptions, since I attach emotions and even characters to color. After some discussion on the comment threads, particularly with Kelley @ Oh! The Books, I was pointed to something called synesthesia. Apparently there's a million different kinds of synesthesia you can have, and I tested out for two or three, one of them being attaching colors to emotions and whatnot. Soo… upon the urging of Kelley from all those months ago, I've decided to actually do something with it and present books as I see them – with color!
Thus, Saturated Reads was born, because I'm also a photoshop geek and the name stuck. In essence, I will pick one book every Wednesday, and show a palette of the colors I see or associate with the book. For example, when I reviewed To All The Boys I've Loved Before by Jenny Han, I said, "It made me feel pink." I actually meant baby pink, something really soft, what I meant by that was that it made me feel light-hearted and whimsical – two emotions I associate with the baby pink color. Basically, imagine the saying, "I feel blue," but applied to the entire color spectrum. Hopefully that makes sense!
And without further adieu… the first Saturated Reads book: What I Thought Was True by Huntley Fitzpatrick!
What colors do I associate with the book?
There's a few other colors, but these are the primary three that come to mind when I think of WITWT. Some greens or yellows will pop up if I really focus on it, but most of the hues stay in the blue area. The navy because to me the story is dark and roiling and I always picture the night sky, especially when I think about the characters and their conversations. The concrete gray because it's harsh and unrelenting, and there are a lot of tough situations in the book that the characters have to deal with. But then the light, clear-sky blue – the hope at the end and the lightheartedness that does peer through in some parts.
Does the cover match my colors?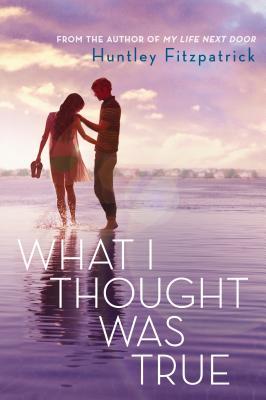 Eh, not really! I think this is why I was so taken aback by the book *cover snob over here*. So I got all of my colors floating round my noggin, and then there's this soft, peaceful, lovey-dovey cover staring at me the whole time. Talk about a sensory overload!
Now this… *many thanks to the tint tool on pic monkey* This is more like what I'm thinking:
So. Much. Better. Excuse me while I go print out a copy of this and tape it over my hardback.
Now to you: what do you think of my colors versus the cover? Do you ever "see" colors when you read?