A few months ago, I posted about how I wish more authors wrote using color in their descriptions, since I attach emotions and even characters to color. After some discussion on the comment threads, particularly with Kelley @ Oh! The Books, I was pointed to something called synesthesia, and I have a type that connects emotions with colors. Every Wednesday, I'll pick a book or character, and show a palette of the colors I see or associate with the book/character. Basically, imagine the saying, "I feel blue," but applied to the entire color spectrum. Hopefully that makes sense!
The Saturated Reads book for this week is… Days of Blood and Starlight by Laini Taylor. Because this is a Laini Taylor week, and DoBaS was the most vivid reading experience I've had in a long time!
What colors do I associate with the book?
Most dominant is a dusky purple rose ish color (I really couldn't get it *just* right, no matter how hard I tried. I think it has more texture in my head, but I can't duplicate it on pic monkey. Like sparkles, but not the big sparkles? I guess it's more like the duo chrome stuff that changes in the different light. Which is pretty much impossible to show in a color swatch so… this is as close as I can get). The purple is the magic and mystique of the entire story – the otherworldliness.
Next is a black, but not really a black. Like a black/blue – another duo-chrome thing that shimmers in the sunlight. The black for the darkness and bleakness of the story, but the blue because there's a tiny bit of hope and change: a shimmering conglomeration of emotions that Karou experiences as the plot progresses.
And then the rainbow – because really, as I said in my review on Monday, this book made me see all the colors. Like a prism, constantly shimmering and changing and shifting. But they weren't as bright as in that square – it's like a dimmed rainbow, overcast by the black of the plot.
So if I had to sum up this book – I'd say the colors are 3D. There's no way for me to exactly pin them down, because they're not matte colors. They have sparks of red and orange and purple and blue all speckled into the myriad of other colors. But this is as close as I can get to them!
Does the cover match my colors?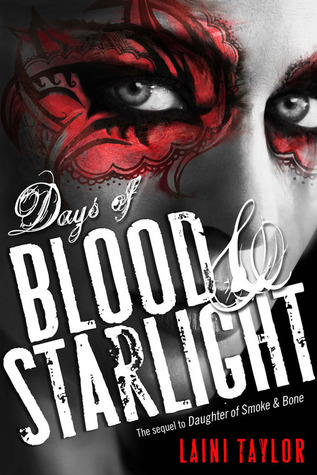 Well, technically not really. I mean, if my dominant color is dusky purple, then the answer is no. I tinted the cover a bit, like so:
But really, it doesn't fit once I look at it. So I'd say yes – keep the original cover. Because red IS part of the rainbow! Plus, it emphasizes the danger and pulse-quickening aspect of the book. Even though I vehemently hated the covers before, now that I read the story I say YES they're just right!
If you have any books (or even characters!) that you want to see Saturated, leave a comment below! Check out my GoodReads shelf to see what I've read.