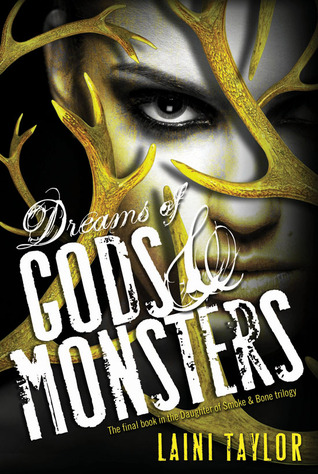 Title: Dreams of Gods and Monsters
Author: Laini Taylor
Genre: YA, paranormal
Publisher/Publication Date: Little, Brown & Company / April 8, 2014
How Did I Get It? Bought it
Format? Hardcover
Synopsis from Goodreads: By way of a staggering deception, Karou has taken control of the chimaera rebellion and is intent on steering its course away from dead-end vengeance. The future rests on her, if there can even be a future for the chimaera in war-ravaged Eretz.

Common enemy, common cause.

When Jael's brutal seraph army trespasses into the human world, the unthinkable becomes essential, and Karou and Akiva must ally their enemy armies against the threat. It is a twisted version of their long-ago dream, and they begin to hope that it might forge a way forward for their people.

And, perhaps, for themselves. Toward a new way of living, and maybe even love.

But there are bigger threats than Jael in the offing. A vicious queen is hunting Akiva, and, in the skies of Eretz … something is happening. Massive stains are spreading like bruises from horizon to horizon; the great winged stormhunters are gathering as if summoned, ceaselessly circling, and a deep sense of wrong pervades the world.

What power can bruise the sky?

From the streets of Rome to the caves of the Kirin and beyond, humans, chimaera and seraphim will fight, strive, love, and die in an epic theater that transcends good and evil, right and wrong, friend and enemy.

At the very barriers of space and time, what do gods and monsters dream of? And does anything else matter?
Amazon | Barnes and Noble | Book Depository | Goodreads
I was skeptical. I was really, really skeptical that Taylor could possibly outdo herself and write a book better than Days of Blood and Starlight. And yet, she has, in the form of Dreams of Gods and Monsters. It's currently midnight, on Tuesday night (Wednesday morning?), I have to be up in seven hours, and I really couldn't care less right now because the lack of sleep is BEYOND WORTH IT. I will wear my under-eye shadows with pride and joy tomorrow while I'm at work, because I'll have 600 pages of pure glory all floating around in my head.
I really don't even know how to properly review this book. I mean, there's nothing to nitpick. Literally. I can find no faults in it. The storytelling was so tightly woven, even among the several different POVs – which I usually hate. There was a new character introduced, Eliza, and she fit in so seamlessly with the rest of the cast that I didn't even question her chapters. And the other characters? Oh god where do I even begin. Karou, Akiva, Mik, Zuzana, Liraz (oh my baby Liraz), Ziri (my OTHER baby Ziri) – and so many more. The shipping abounded, many squeals were to be had, screams of fear and rejection could be heard from my corner of the couch, and I'm pretty sure my heart was fluttering more than is healthy towards those last 50 pages. Because really, there must have been a hummingbird trapped in their or something. My whole body was thrumming because I was so enthralled and immersed into this story.
And that epilogue. Oh that epilogue. I was completely prepared to accept the last chapter in stoicism and understanding the grim realities of war and sometimes things don't end the way we want them to, but no. I didn't have to survive with that facade of screaming inside because why. There was… the epilogue. The. Epilogue. And really I can't speak to anything that's inside those precious few pages, because spoilers, but trust me – all wounds are healed and my heart really can't take any more feels. How everything ended was just… it was perfect. There is no other word for it but perfect. But let's get the thesaurus out, shall we? Ideal, faultless, exemplary, quintessential, etc. Tack on as many as needed. Hint: there aren't enough synonyms to fully encompass the utter perfection. And to Mrs. Laini Taylor:
So how's that for my non-review? It's the best I can do, and I'm surprised there wasn't more capital letters and cursing. And I actually think three gifs is a good ration for me. And I spoke in whole sentences! Maybe. But really I think I'm just in shock right now and I can't handle all of the amazingness that I just read. I inhaled 300 pages in two hours – I think it's time to go to bed now. But my final words: READ. THE. SERIES. READ THE FREAKING BOOKS.
My Final Rating: