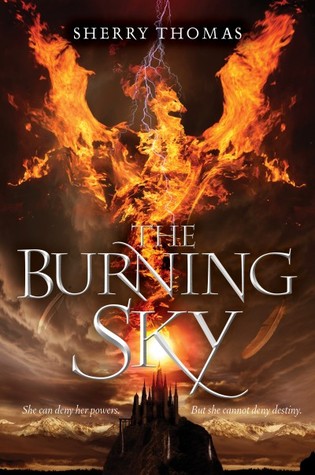 Title: The Burning Sky
Author: Sherry Thomas
Genre: YA, fantasy
Publisher/Publication Date: Balzer + Bray, September 17, 2013
How Did I Get It? Bought it!
Format? Hardcover
Synopsis from Goodreads: It all began with a ruined elixir and an accidental bolt of lightning…

Iolanthe Seabourne is the greatest elemental mage of her generation—or so she's being told. The one prophesied for years to be the savior of The Realm. It is her duty and destiny to face and defeat the Bane, the greatest mage tyrant the world has ever known. A suicide task for anyone let alone a sixteen-year-old girl with no training, facing a prophecy that foretells a fiery clash to the death.

Prince Titus of Elberon has sworn to protect Iolanthe at all costs but he's also a powerful mage committed to obliterating the Bane to avenge the death of his family—even if he must sacrifice both Iolanthe and himself to achieve his goal.

But Titus makes the terrifying mistake of falling in love with the girl who should have been only a means to an end. Now, with the servants of the Bane closing in, he must choose between his mission and her life.
Amazon | Barnes and Noble | Book Depository | Goodreads
Before I get to my actual review, I have a few confessions. 1) I've owned this book since last October. 2) It sat on my shelf ever since. 3) I only picked it up *finally* because I needed a good reason to buy The Perilous Sea when it comes out in Autumn. 4) I only wanted The Perilous Sea because of its gorgeous cover. WATER. DRAGON.
So you can see my train of thought here: read The Burning Sky = have a legit reason to explain my purchase of The Perilous Sea other than cover lust. And so began my foray into reading a book I knew very little about but for the fact that Nara gave it five stars and she and I have a 99% rating agreement so there was that. Thus, emboldened by my reading twin's effusive praises, I set off!
Aaaanddd I was treated to a fantastic high fantasy novel that is the illustrious start to what I'm sure is going to be a mind-blowing series. Now I'll admit that the first few chapters were hard – there's a lot to figure out, and fast. It's not like Harry Potter where you learn right along with Harry and thus are slowly introduced to the world and it's inner workings. Io already knows about and can use her powers, so all the usual "how does this work?" aspect of the magic and world building doesn't really exist. It's one of those books where you have to figure it out by inferring from conversations and how characters act, and I think Thomas did a pretty good job at not making me feel totally lost.
Both of the main characters were complex and intriguing, so there's an A+ from me on that aspect. Io wasn't the usual "oh woe is me my destiny is crushing me under its weight and I'm but a pitiful teenager" trope – she rejected it at first, but once she figured everything out she eventually shifted to an attitude of "this isn't what I want to do, but if I sit back and do nothing then I'll never forgive myself." Which is understandable – who really wants to throw herself in the face of almost-certain death? But aside from that, Io is self-assured, fiery, a bit cocky, and strong.
And then there's Titus, who actually surprised me with his character. I had thought he would be the usual: handsome, kind-hearted, stoic-in-the-face-of-his-prophesied-death, all around upstanding and moral dude. But homeboy is, to be frank, a bit of an ass at first. He was manipulative, rude, zealous, and conniving for most of the first half of the book. As his background and personality starts to show up more, however, it's realized that it's all a front, and really he's scared, confused, and trying to be this image that he created for the public that isn't really himself. At some points, Io became the shore to cling to when Titus was thrown around by all the events, and I loved how their relationship started forming through that.
As for the romance – I have mixed feelings. Some part of me says YES OMG I SHIP IT but there's a little bit of my head that says, "but where was the chemistry?" At certain points in the book I felt it was more of a "these two will fall in love because I said so" trope. But as the plot progressed I started to see those little sparks more and more, and by the end I had completely turned to the YES OMG I SHIP IT part of my brain.
There were a few other things that I could nitpick at (I was confused by the magic at times *personal issue*, the plot seemed to dart around a bit and not settle down, and the big battle could have been a bit more bombtastic), but overall I really enjoyed the story. I'm not freaking out quite yet – I wasn't gasping for The Perilous Sea, but I'm pleased by the entire experience and with patiently await the release date whereupon I will fetch my copy and settle in for what is sure to be an action-packed sequel.
My Final Rating: