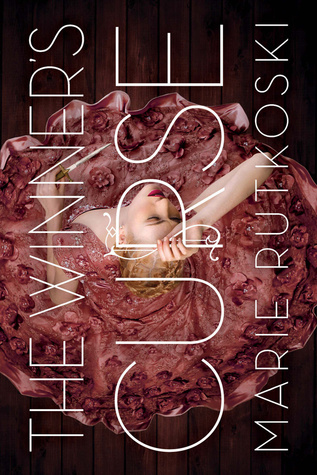 Title: The Winner's Curse
Author: Marie Rutkoski
Genre: YA, fantasy?, historical fiction?
Publisher/Publication Date: Farrar, Straus and Giroux / March 4, 2014
How Did I Get It? Gifted
Format? Hardcover
Synopsis from Goodreads: Winning what you want may cost you everything you love

As a general's daughter in a vast empire that revels in war and enslaves those it conquers, seventeen-year-old Kestrel has two choices: she can join the military or get married. But Kestrel has other intentions.

One day, she is startled to find a kindred spirit in a young slave up for auction. Arin's eyes seem to defy everything and everyone. Following her instinct, Kestrel buys him—with unexpected consequences. It's not long before she has to hide her growing love for Arin.

But he, too, has a secret, and Kestrel quickly learns that the price she paid for a fellow human is much higher than she ever could have imagined.

Set in a richly imagined new world, The Winner's Curse by Marie Rutkoski is a story of deadly games where everything is at stake, and the gamble is whether you will keep your head or lose your heart.
Amazon | Barnes and Noble | Book Depository | Goodreads
Once again, I am an idiot. Yep – it's official. Print a big WORLD'S BIGGEST IDIOT and tape it to my forehead. Because I nearly missed out on this book due to my snobbery over its hype a few months ago. But *once again* Nara's review had me scrambling to get a copy, and I not-so-subtly slipped the tip to my mom that this was the ONE BOOK I wanted for my birthday. Lo and behold, there it was, all nice and wrapped! Thank you mommy ❤ And how did I feel about this book? Uh-huh – you guessed it. I'M IN LOVE. And as more time as passed since I read it, I'm even more enthralled with the story, bumping up my original rating from 5 stars to my special 6 stars.
Where do I even begin with this book? It was so vivid to me – in fact I plan on Saturating it on a Wednesday not too far in the future – both in the world building and the characters. It's hard to place this in a genre, since it's fantasy-ish in that it's in another world, but it honestly feels more like historical fiction; I get a distinct Greco-Roman feel from the whole thing, except the ladies are more Spartan than anything (woohoo for badass women!). And it was all politics and high society and general sneaking about – the stuff I liked from the Harlequin novels I read, without the sexy times.
But that's not to say that the romance wasn't hot! It was slow-burning though, and honestly it sat in the background for most of the novel. Ohhh it was perfect ❤ Arin grew on me greatly throughout the book; I really hated him at first, with all his manipulation and cunning, but as more was revealed, it made sense and I forgave him a bit. That's not to forget it all – the end of book one has a bunch of crap all thrown up in the air, and book two is going to have some serious scrambling to fix everything. But Kestrel is a strong character, and I love her spirit. She can handle whatever's thrown at her for sure! But back to the romance: FJKALS;JFSFJAS THE BRAIDING SCENE. *DIES* I COULDN'T HANDLE IT.
What else can I say about this book before completely spoiling it for everyone? Nothing! I don't trust myself to say any more. But seriously READ IT! I already need book two, and don't get me started on the wait for book three. Dear God I may need a straight jacket. It's definitely a new favorite for sure!
My Final Rating: