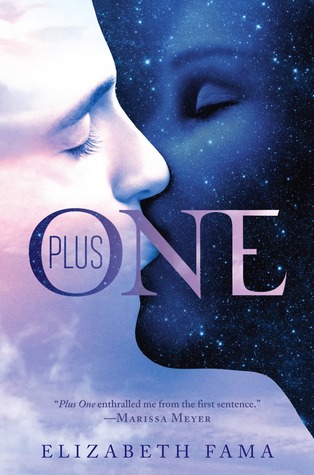 Title: Plus One
Author: Elizabeth Fama
Genre: YA, alternate reality, romance
Publisher/Publication Date: FSG / April 8, 2014
How Did I Get It? Gifted
Format? Hardcover
Synopsis from Goodreads: It takes guts to deliberately mutilate your hand while operating a blister-pack sealing machine, but all I had going for me was guts.

Sol Le Coeur is a Smudge—a night dweller in an America rigidly divided between people who wake, live, and work during the hours of darkness and those known as Rays who live and work during daylight. Impulsive, passionate, and brave, Sol deliberately injures herself in order to gain admission to a hospital, where she plans to kidnap her newborn niece—a Ray—in order to bring the baby to visit her dying grandfather. By violating the day-night curfew, Sol is committing a serious crime, and when the kidnap attempt goes awry it starts a chain of events that will put Sol in mortal danger, uncover a government conspiracy to manipulate the Smudge population, and throw her together with D'Arcy Benoît, the Ray medical apprentice who first treats her, then helps her outrun the authorities—and with whom she is fated to fall impossibly and irrevocably in love.

Set in a vivid alternate reality and peopled with complex, deeply human characters on both sides of the day-night divide, Plus One is a brilliantly imagined drama of individual liberty and civil rights—and a compelling, rapid-fire romantic adventure story.
Amazon | Barnes and Noble | Book Depository | Goodreads
After months of wanting and hoping to get my hands on this book, it finally happened! I was eager to get started, to see if it would measure up to 1) my expectations, and 2) that gorgeous, drool worthy cover. And… I'd have to say yes and no to those questions. Judging by the first half of the book, it's a definite no. But the second half is really where the magic happens, and it made my forcing myself to read the first 150 pages all worth it. So in the end, I give this book a 3.5 – not quite the mediocrity of a 3, but not quite the "ooohhh that was fab" of a 4.
I have one big issue with the book that lowered the rating so much: the pacing. I'm sorry I keep using this quote in my reviews, but IT APPLIES EVERYWHERE OKAY?? I felt like I was "on a roller coaster that only goes up." That tension and waiting of "what's going to happen" just took forever, and it really started to drag after a while. I couldn't find myself to care about Sol just yet, and the whole baby thing was a wee bit far-fetched for me. Normally I'd forgive it, but with the suspension of belief AND the slow plot put together, I got a bit grumpy after a while.
But! After I got over my griping and pushed past the halfway mark, that's when things really picked up. I'd say I started to settle in and truly enjoy it once they got out of the city – that's when it all started heating up. Gone was the senseless arguing (for pages upon pages) about WHAT to do with the baby, and in moved the tension and politics and romance-on-the-run. It sucked me right in and the last half flew by without me even noticing that I had reached the end of the book. AND THAT END. DAMMIT. I WAS NOT PREPARED. The high-brow reader in me was cheering for the realism and logic of the entire ending, but the sappy reader in me was shouting NO STAHP IT'S NOT MEANT TO END THIS WAY.
But the logic in me is winning out and so I say: well done with that ending! It was hard, but it was real, and it was bitterly hopeful at the end. I think it's honestly the best way it could have ended, and I'm almost wishing there was just one more book – just a duology – so I can see what happened maybe a few years in the future. Maybe just a novella?? SOMETHING. And I think that shows how much I grew on these characters – by the end I was latched on to their fates, and couldn't handle it if something went wrong. *shout out here to D'Arcy – nerdy dude who saves the day through intelligence and scheming rather than suddenly growing a set of biceps*
So while I'm glad that I was gifted this book, since I'm not over my head in love with it, I still think it was worth a read. I may even read it again someday, when I'm feeling really patient and can focus on unravelling the slow build of the explosiveness. If you're on the fence about it, I'd say wait for an ebook deal or a few months for the paperback. In the end, my thoughts can be summed up in this way:
My Final Rating: