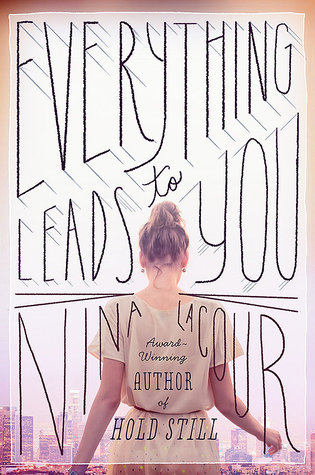 Title: Everything Leads to You
Author: Nina LaCour
Genre: YA, contemporary
Publisher/Publication Date: Dutton / May 15, 2014
How Did I Get It? Gifted
Format? Hardcover
Synopsis from Goodreads: A love letter to the craft and romance of film and fate in front of—and behind—the camera from the award-winning author of Hold Still.

A wunderkind young set designer, Emi has already started to find her way in the competitive Hollywood film world.

Emi is a film buff and a true romantic, but her real-life relationships are a mess. She has desperately gone back to the same girl too many times to mention. But then a mysterious letter from a silver screen legend leads Emi to Ava. Ava is unlike anyone Emi has ever met. She has a tumultuous, not-so-glamorous past, and lives an unconventional life. She's enigmatic…. She's beautiful. And she is about to expand Emi's understanding of family, acceptance, and true romance.
Amazon | Barnes and Noble | Book Depository | Goodreads
Okay, let me take a minute and compose myself. *deep breaths* Disclaimer for this entire review: I'm writing this at 11:45PM, after being up since 5:45AM, I've got a kink in my neck that's been giving me headaches (got it fixed today, thank God), and I've started the Paleo diet and my body is screaming for bread and other stuff that I've cut out. So I'm a wee bit loopy. You've been warned. And now I start with this: fjkaljfksd;jfkdsajfs;. <– That's how I feel about this book. It was just… magical. ELtY was one of those books that from the very first page – from that first paragraph – you jus know you're going to fall in love with. By page 20, I was hooked. There isn't anything negative I can say about this book, so this is going to be less of a review and more of a time for me to talk out all my feelings.
1) I hesitate to call this a romance book. There is a romance, and I really did love that bit (that last line? TEARS. HAPPY, JOYOUS TEARS), but it's so much more than just a romance. It's about seeing people for who they are, who they truly are inside, and not the images or expectations that people place on themselves or have projected onto them by others. About seeing past all the exteriors and just loving someone at their most basic level. And I think that's why I love this book so much: when Emi stopped seeing things as they "should be cinematographically" (I just need to let you all know that I spelled that right the first try, and at this late at night *not a speller*) and just started seeing life and people as it is, I just had this huge sigh of relief (followed by happy tears), because YES she got it.
2) The setting and background stuff. Set decorating – I never even KNEW there was this whole world like that. I mean, it makes sense now, but I just hadn't considered it before. Emi's talent was so unique and so vividly described that even in her picking out a couch, I learned more about her character. LaCour infused every part of Emi's personality into her hobby and job that it never felt forced or cliche at all.
3) The friendships. Everything starts as a friendship, even the ones that later blossom to romance. It was so organic and I never questioned it at all. And – they were healthy relationships. Charlotte was the best – she straight up told Emi when she was being an idiot, and didn't hold back from the truth. If there was something Emi needed to hear, Charlotte said it. But it was in the most loving way possible – not in spite or anger but in the purest love.
I could go on and on about this book and nitpick each little thing and go on for paragraphs about why I loved it, but I think I can sum up my adoration in one sentence: Everything Leads to You made me believe that magic can exist in the world – even in the quietest moments. Like not everything is hopeless, no matter how it seems in that moment. That there's something really important about living, and grabbing life with both hands and just running ahead until you find yourself somewhere you've never been before.
I plan on buying both of LaCour's novels and reading them very soon, but I'm pretty sure I can say that she's become one of my auto-buy authors. Everything Leads to You was that good.
My Final Rating: