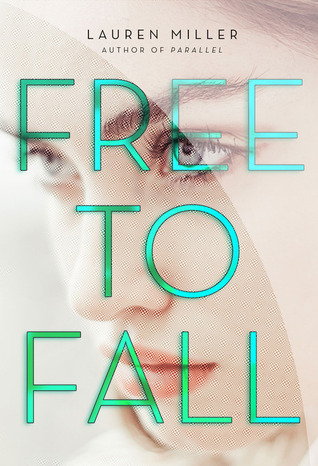 Title: Free to Fall
Author: Lauren Miller
Genre: YA, sci-fi
Publisher/Publication Date: HarperTeen / May 13, 2014
How Did I Get It? Bought it
Format? Hardback
Synopsis from Goodreads: What if there was an app that told you what song to listen to, what coffee to order, who to date, even what to do with your life—an app that could ensure your complete and utter happiness? What if you never had to fail or make a wrong choice?

What if you never had to fall?

Fast-forward to a time when Apple and Google have been replaced by Gnosis, a monolith corporation that has developed the most life-changing technology to ever hit the market: Lux, an app that flawlessly optimizes decision making for the best personal results. Just like everyone else, sixteen-year-old Rory Vaughn knows the key to a happy, healthy life is following what Lux recommends. When she's accepted to the elite boarding school Theden Academy, her future happiness seems all the more assured. But once on campus, something feels wrong beneath the polished surface of her prestigious dream school. Then she meets North, a handsome townie who doesn't use Lux, and begins to fall for him and his outsider way of life. Soon, Rory is going against Lux's recommendations, listening instead to the inner voice that everyone has been taught to ignore — a choice that leads her to uncover a truth neither she nor the world ever saw coming.
Amazon | Barnes and Noble | Book Depository | Goodreads
Okay, so I'm pretty sure I can put my sci-fi likings into two piles. One would be the space and hyperdrives and aliens a la Ender's Game and Avalon, and the other would be the really-close-to-our-society-but-really-effed-up-in-a-dystopian-sort-of-way a la Fahrenheit 451 and 1984. Free to Fall would be of the latter variety. Seriously, I haven't been this astounded and had my view of life challenged since I reread F451. It was like…
The entire concept brought me right back to 9th grade, when I was sitting in American Lit class and we were discussing Thoreau's Walden. My teacher was trying to argue that technology is evil and it's turning the human race into mindless creatures who disrespect everything, etc., etc. Cue 13-year old me having a mini-meltdown because I couldn't find the words to say NO TECHNOLOGY IS AN INANIMATE OBJECT WITH ZERO POWER AND IT'S HUMANS WHO MAKE THE CHOICE TO BECOME IDIOTS WITH OUR TECH in a classroom appropriate way. But thank god Miller could. That was the moment I pretty much went full fangirl mode because one of the big points in the book is that technology is simply a tool for us to use; it all depends on how we use it that determines the detriment or benefit. So huge kudos right there for that incredible plot point/theme.
I've made it known that I'm not a huge mystery fan, yes? Well, now you know: Kayla and the mystery genre are mortal enemies. No Nancy Drew or Boxcar Kids for this girl. And the Westing Game? Pshaw. HOWEVER! The twists and turns and the slight "whodunnit" aspect of this novel didn't bother me at all. It was more of a thriller like – oh my god I figured out who it is but OH MY GOD THEY'RE THE GOOD GUY but then who is the bad guy. <— My thought process. You're welcome. I was on the edge of my seat the entire time, finishing all 400+ pages within a few hours. I may have gotten to the point where my mom called my name several times and I still didn't hear her. I mean… I never get that invested in a book. Ever 😉
And okay, I have to give a paragraph to the characters and romance. I loved how Rory was just a girl – she wasn't any archetype. She was strong, brave, girly, weak, grumpy, sometimes mopey, distracted by a hot guy – all of that and more. She was just trying to get through life in the best way possible, and in that she was a strong character. I mean just slow clap it out *again*. Because WOW we need more girls like Rory in YA fiction! And then there's North – who relies slightly more on the freedom-fighting hacker trope, but still stands on his own nevertheless. I should also admit right now that I fell in love with him the moment forearm tattoos taken from literary sources were mentioned. If I had to pick a body part, it'd be forearms, and when you put tattoos on them oh my word I just melt into a puddle.
As far as the romance – I thought it was a wee bit insta-lovey, but it was a slow burn. So I guess maybe insta-attraction? Okay, I lied. I totally loved the romance. There is seriously nothing I can complain about here! Every single word was just flawless. Sue me if I fell for a trope – I still love it!
Long story short – y'all need to read it. If you love sci-fi that's really close to our society, but just a bit more creepy *shudder*, then Free to Fall may be for you. Aimee @ Deadly Darlings and I read this together, and she ended up giving it 3 (2.5?) stars, so you can check out her review here to see her side of the story. But as for me – FULL STEAM AHEAD! Now I just need to hunt down a copy of Miller's first book, Parallel. Also: I'm so glad my professors had me read Dante's Divine Comedy, because I actually caught a few of the references. And how the title relates to the theme and poem? Oh lordy it's just like *mind blown* again.
My Final Rating: