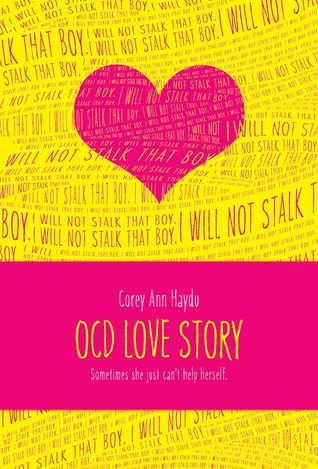 Title: OCD Love Story
Author: Corey Ann Haydu
Genre: YA, contemporary, romance
Publisher/Publication Date: Simon Pulse / July 23, 2013
How Did I Get It? Bought it
Format? Paperback
Synopsis from Goodreads: When Bea meets Beck, she knows instantly that he's her kind of crazy. Sweet, strong, kinda-messed-up Beck understands her like no one else can. He makes her feel almost normal. He makes her feel like she could fall in love again.

But despite her feelings for Beck, Bea can't stop thinking about someone else: a guy who is gorgeous and magnetic… and has no idea Bea even exists. But Bea knows a lot about him. She spends a lot of time watching him. She has a journal full of notes. Some might even say she's obsessed.

Bea tells herself she's got it all under control. But this isn't a choice, it's a compulsion. The truth is, she's breaking down…and she might end up breaking her own heart.
Amazon | Barnes and Noble | Book Depository | Goodreads
I'd actually had this book on my wish list for a while, but never picked it up because I wasn't sure that I wanted to spend the money on a hardback when I wasn't quite sure I'd enjoy the book. But then I saw it in paperback at BN when I was picking up another book, so I added it to my bag – and I'm so glad I did! I actually like having it in paperback; it's well-bound, and the pages are really soft. While this book isn't one that I'm adding to my favorites shelf, I truly enjoyed it and I'll be reading it again in the future. If you're looking for a good representation of mental illness in YA, this is one for you.
I really do need to take a moment and applaud Haydu for writing so honestly and truthfully about OCD. I'm no psychiatrist, but from what I've studied and researched, this was a very faithful portrayal of the disorder. And what's even better is that Beck and Bea weren't defined by their compulsions – they were people, not just their diagnoses. But that's not to say that the OCD was pushed aside; it's actually one of the focuses of the novel, especially in the second half. It was harrowing, and to be honest a bit disturbing, to get into that mental place with Bea as her compulsions get worse. But if it had been done any other way, it wouldn't have been true to the reality of the disorder – OCD isn't just a joke; it can be very serious. And I'm really glad that Bea actually had to face the consequences (serious ones, at that) of her actions.
Obviously, this is a romance. I mean, it's in the title, so no spoilers there. Beck and Bea's relationships was a conglomerated mess of healing and regressing and jumping all over the map. Kind of like playing the lava game as a kid: where can I put my foot so I cause the least damage? Or can I even step there at all? Their romance was kind of like that – a tiptoe game as they tried to work past their individual compulsions so that they could be together and just relax. And in their really screwed up loopy-loops of falling in love, it felt so real. It wasn't magic and fireworks and sudden acknowledgments of mutual affection: it was messy and angry and painful, but also beautiful and healing and supportive.
I'd also like to note one of the themes: mental illness doesn't just go away. It will always be there, some days more than others. It's not like Beck or Bea were miraculously "cured" – they just had to learn how to not allow their compulsions to take over their lives. It was more about acceptance of themselves, not erasure of their pasts.
A lot of people on GR note that this isn't a fluffy story; I actually have to disagree with that. While I won't be Saturating this book, I'd just like to make note that I feel the brightness of the cover and colors fit this story perfectly. Despite the looming force of the OCD, I ultimately felt that OCD Love Story was quite hopeful and optimistic. It was easy to read, with a unique narrative voice that felt very real, and I sped through the book in a few short hours without needing to take a moment to remove myself for a break. It just made me happy and at ease. I may be the black sheep here, but it was a perfect light read for me after finishing Heir of Fire (which gave me a hangover of epic proportions).
In the end, I recommend this for sure. Not just for the representation in YA aspect (which is really important and deserves recognition), but for the story itself. It's just a really good book that I thoroughly enjoyed and recommend to anyone looking for a quick, entertaining contemporary with a bit of heartfelt romance that gives you the fuzzy feels.
My Final Rating: